Vatupassi supports youth sports by giving out something we like to call Junnutonni ("Junior Grand"), i.e. grants of one thousand euros every year to top youth sport crews, teams, clubs or communities that act responsibly. Each one of the five Finnish Vatupassi towns chooses their own top crew as the receiver of the "Junnutonni" grant. Every year, the new "Junnutonni" winners are announced on 20 November, the World Children's Day, on the Vatupassi social media channels.
In addition to the "Junnutonni" grant, we are supporting youth employment by hiring summer workers and work experience trainees every year. As there are no education programmes available in the tool and equipment rental field, as of yet, we train all the Vatupassi staff members ourselves. In September 2022, we hit the road and headed out on a two-week tour of vocational schools and colleges around Finland, with the theme "Headed to the top" (in Finnish: Matkalla huipulle). During the tour, we showcased the tool and equipment rental industry and students had the opportunity to express their interest towards a traineeship or a summer job at Vatupassi – all this accompanied by some cool entertainment, of course.
In addition to summer workers and work experience trainees, we also hire partially disabled workers, who are able to work on a part-time basis.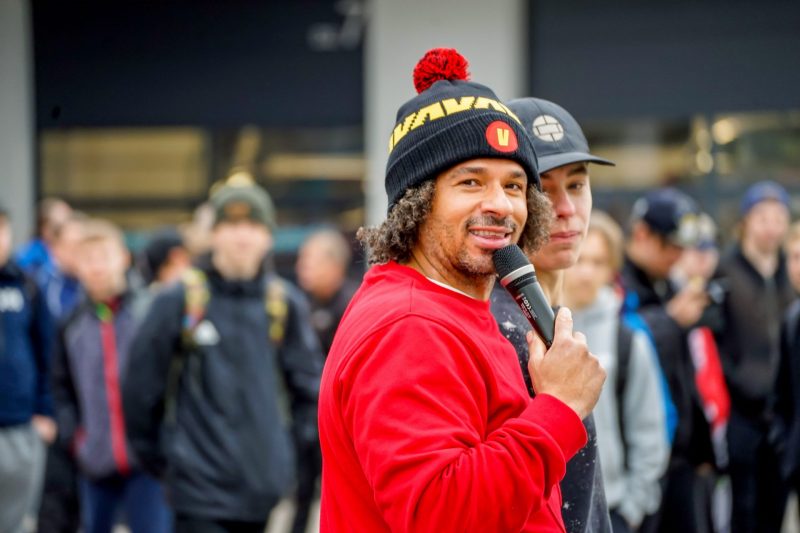 As an antidote to all the gloom and doom caused by the pandemic, we organised a "Keikkarekka" gig-on-wheels tour starring popular Finnish hip hop artist Stig in August 2021. The tour visited four Vatupassi towns around the country, and people were able enjoy the show-on-wheels along the streets, from balconies, yards and bar and restaurant patios – and also by walking next to the truck that was moving at a very moderate speed.
As a Finnish family-owned company, we always favour local entrepreneurs in all our acquisitions and services, as best we can.
For several years, we have also been involved in the Finnish "Pieni kulkija" project that increases traffic safety for children. "Pieni kulkija" distributes high visibility safety vests with LED lights to first graders at the beginning of their school careers. We hope all drivers pay extra attention to the smallest road users out and about in traffic.
CONTACT US
We here in Eastern Finland are a talkative bunch, and we love to chat about everything and anything. The following members of the Vatupassi team can do it smoothly in English too – so just give them a call or send them an email.
You can find all the rest of our contact details in Finnish here.